It's around this period that many UK and Irish golfers start to plan their winter golf break. Whilst the climate in the Algarve and the Costa Del Sol is warmer than the UK, the weather in December and January can be quite cool and there is a possibility of rain showers.
Other destinations will offer a drier more attractive climate. We've provided a brief overview of some of the most popular winter golf destinations to help you plan the perfect golfing holiday!
Top 8 Winter Golf Destinations
Winter golfers now have more choice than ever before when booking winter golf packages. An increasing number of holiday destinations have realised that golf in winter around the UK and Northern Europe is not especially attractive. Therefore, they've put together winter golf packages to attract those golfers seeking some winter sun.
Mediterranean countries have always offered winter golf. But, if you travel a little further afield, with our winter golf packages you can find a truly unique winter getaway in a much warmer climate.
Our List of The Best Winter Golf Holiday Destinations
The Canary Islands have been an incredibly popular location for golfing breaks due to the fantastic climate and proximity of the courses to the main resorts. High season here is between October and April, but it's most popular in December and January for those looking to escape dark nights in the UK and the winter cold.
With an average year-round temperature of 23 degrees Celsius, excellent nightlife, beautiful sandy beaches and plenty of accommodation options this certainly is a great destination.
There are a total of 9 golf courses currently on the Island including Costa Adeje Golf which features 27 holes, and Golf Las Americas which is situated on the stunning 5* luxury Hotel Las Madrigueras Golf Resort & Spa.
Tenerife is suitable for all budgets.There are great accommodation options in the Southern part of the island, where most of the courses are located and can cater for those looking for an all-inclusive board basis too.
Top 5 Winter Golf Breaks in Tenerife
Gran Canaria is another popular option in the Canary Islands, boasting 8 available golf courses. However, unlike Tenerife, the courses are more spread out with 3 in the north of the island and 5 in the south. Gran Canaria also has an incredibly strong history with golf, having its first-ever course opening as far back as 1891.
Packages here include the two fantastic golf courses at the Sheraton Gran Canaria Salobre Golf Resort, as well as, Maspalomas Golf and Anfi Tauro Golf resorts. The unique thing about Gran Canaria is that you can purchase a golf passport.This allows you to play any of the courses on the island with a single purchase.
Beyond the golf, the stunning beaches and beautiful scenery make the island a memorable destination. The Island's capital Las Palmas is steeped in history and culture, making it a worthwhile detour from the green.
Although generally slightly more expensive than Tenerife, there are plenty of options to suit the smaller budget.
Top 5 Winter Golf Breaks in Gran Canaria
This North African destination features two popular regions for a golf break – Marrakech and Agadir. Both have now become easily accessible destinations with flights taking under four hours from the UK. Marrakech is the more popular of the two locations. This is due to its unique culture and the large number of resorts and courses south of the city.
Popular accommodation includes the 4* Riu Tikida Garden Hotel which has all the facilities and amenities you would expect from a Riu hotel. It's also worth considering the Royal Golf Marrakech with its breath-taking views of the Atlas Mountains in the backdrop.
Agadir is recommended for those who would rather relax on a beach than explore the markets of Marrakech, with great accommodation at the luxurious 5* Atlantic Palace. We recommend you consider the Golf Club Le Soleil, with its two 18 hole golf courses. The variety of golfing available here is astonishing.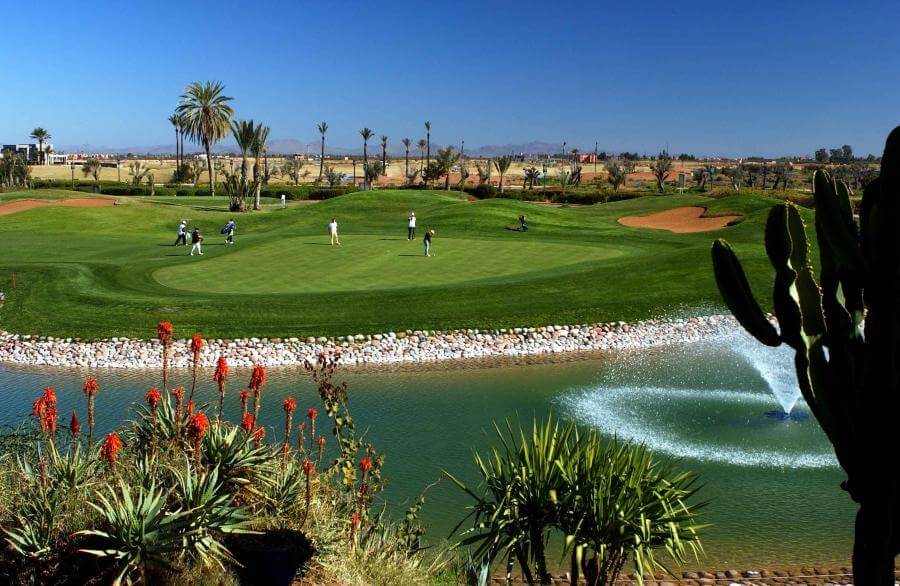 Top 5 Winter Golf Breaks in Morocco
Turkey has become the go-to place for golfers looking for high-quality accommodation, great golf courses and the chance to have an "all-inclusive option." Sitting on the eastern coast overlooking the Mediterranean, the town of Belek has become a golfer's paradise. The nearest Airport, Antalya, is only 30 km away. Antalya receives flights from most of the UK and Irish airports, making it more accessible than ever before.
Turkey has become a sought-after golfing destination after massive investment, with several five-star hotels providing the very best in accommodation and facilities.
The Regnum Carya Golf & Spa Resort is one of the best examples of what the area has to offer. The rooms are well equipped and much larger than you would expect. It's a completely self-contained resort, boasting its own golf course and water park, tennis courts, gymnasium, spa, several restaurants, bars and a night club. The on-site Carya golf course will be familiar to golfers who have played on English heathland courses with manicured fairways winding through mature trees.
Nearby is the National course which features in the Hotels packages and has been the scene of several professional tournaments.
The Sueno Golf Hotel, whilst still a luxury five-star property, offers a cheaper alternative without compromising on the golfing experience. The hotel is situated just a few steps away from one of the two courses situated on site. Both of which comprise of 18 interestingly designed holes. It's a smaller hotel than many of the others but the 174 rooms are well furnished, and guests can use the facilities at the Sueno Deluxe hotel as well as the onsite amenities.
The quality of the Hotels and golf courses are reason enough to try Turkey for your next golfing holiday, but one other very important factor to consider is that they all offer an all-inclusive package. This provides such outstanding value for money that other destinations are struggling to compete with.
Top 5 Winter Golf Breaks in Turkey
Spain is one of the first destinations that golfers think of when considering a golfing holiday. From the original golfing region of the Costa del Sol, several other areas have developed the infrastructure that a great golfing break relies on. It's easy to see why it is so popular, regardless of the area that you choose to golf in.
You can find flights from most UK and Irish airports at reasonable prices. With a flight time in the region of  3 hours and sunshine in the winter almost guaranteed, there is no easier place to spend the cold winter months playing sunshine golf.
Having been one of the original winter golfing destinations, there are over 50 golf courses in the Costa del Sol alone. From Europe's greatest golf courses, such as Valderrama, to affordable courses coupled with self-catering apartments, there is a golf package to suit every pocket. There are golf courses in styles ranging from links to parkland designed by some of the world's leading golf architects.
Spain is rightly famed for its nightlife. Having locations such as Puerto Banus, one of Europe's leading party destinations, boasting resorts suchas Marbella, Fuengirola and Benalmadena offering everything a golfer needs for evening entertainment. It's the original golfing destination and still one of the very best locations to enjoy golf in the winter.
Having seen the economic benefits of promoting the area as a golfing destination, other regions have followed suit and you can now play golf in virtually all areas of Spain. From the Costa Blanca to the Costa Dorada, golf of all types is available. So, whatever your preference; links, desert, parkland or American style courses, you will be able to find something to match your ambitions through our winter golf breaks.
Top 5 Winter Golf Breaks in Spain
One of Europe's original golfing holiday destinations, the Algarve in Portugal has been a favourite for UK golfers for many years. Its popularity has, like Spain, led to the development of other areas into golfing destinations and now there are nearly 100 golf courses throughout the country.
The Algarve is still the best-known area and there are several courses close to the Resort of Vilamoura which is usually the first place people look. But such is the popularity of Golf in the Algarve that courses and golf resorts have spread westwards to Lagos and towards the Spanish border.
Vilamoura and Albufeira are well known for their nightlife and there are many different types of accommodation available to suit all tastes and budgets. The Portuguese Masters is usually held in this area at the Victoria course that, along with the Old Course in Vilamoura, provides a great test of golf that will please any golfer, whatever their ability.
Golf around the capitol Lisbon area is not as well-known, but the clubs near to the City and within an hour's traveling time are now serious contenders for winter golfers. The Praia del Rey Resort has excellent accommodation and is a stunning golf course with several holes along the cliff tops. The recently opened West Cliffs has to be one of the best golf courses built in recent times.
Westward towards Cascais and Estoril, there is a thriving golf destination with not only good golf courses but very pleasant towns with good restaurants, bars and accommodation.
Finally, apart from West Cliffs which is destined to become one of Europe's top five golf courses, golfers seeking the very best in golf course design could head to the Monte Rei course. Designed by Jack Nicklaus it is now rated the number one course in Portugal and should be on everyone's bucket list to play.
Portugal can offer everything that the golfing holidaymaker requires. Good weather, courses that are some of the best in Europe and accommodation to suit any budget.
Top 5 Winter Golf Breaks in Portugal
The most popular golfing region in the Middle East, this city has now become an important part of the golfing map. There are a large number of incredible courses in this area including Jumeirah Golf Estate which is home to the European Tour's The Race to Dubai season finale, the DP World Tour Championship, and the Majlis Course at The Emirates Golf Club which is home to the Dubai Desert Classic.
Beyond the golf, there are beaches, attractions such as the Burj Khalifa and several shopping malls where some of the most luxurious brands in the world have stores.
Accommodation in this region doesn't have to cost the earth. There is a wide range of hotels offering a variety of board types. There are great options to stay at a golf resort such as The Address Montgomerie Dubai or you can opt to stay closer to the malls and the nightlife in somewhere like the 5* InterContinental Dubai Marina.
Top 5 Winter Golf Breaks In Dubai
Although perhaps not a place that has a long history of being popular with UK and Irish golfers, Abu Dhabi is fast becoming the hot new destination for winter golf.
Just a 90-minute drive from Dubai, it's possible to split your time between these two cities in the UAE. This is idealif you wanted to explore everything this region has to offer for a golfing getaway.
Abu Dhabi has managed to establish itself in the golfing world by hosting the European Tour's popular round, the Abu Dhabi HSBC Golf Championship and it also boasts a stage on the Formula One schedule as well. This makes it an attractive place tostay and play and visiteither or both event.
Given the amount of investment poured into the region, the golf courses here are immaculate and the clubhouses are something else! Take for example the Abu Dhabi Golf Club with its eagle-shaped clubhouse, or the Al Ain Golf Club with its 9 hole par 3 floodlit course alongside an 18 hole par 71 Championship course.
Although generally considered expensive, this region is becoming more affordable due to the increasing number of flights becoming available and the ever-growing number of hotels being developed.
Top 5 Winter Golf Breaks in Abu Dhabi