Benidorm is one of Spain's most popular destinations for British Holidaymakers and has an increasing reputation for the quality of the golf scene. It has all of the aspects of a traditional Spanish holiday destination with beautiful sandy beaches, a plethora of restaurants and an exhilarating nightlife.
Golfers are spoilt for choice having over fifteen, 18-hole courses to choose from, some designed by golfing legends such as Jack Nicklaus and Seve Ballesteros. Many have played regular host to the Spanish National Championships, and a select few are often featured amongst the finest courses in Europe. To help you on your way toward an amazing golf getaway, here is our complete guide to golf in Benidorm.
Benidorm skyline
The Best Way to Get To Benidorm
Benidorm is extremely accessible. Alicante is the nearest airport to Benidorm and is serviced by numerous airlines departing from virtually every major airport in the UK and Ireland. From there, it is a short 40-minute drive to the centre of Benidorm, and there are many resorts and courses even closer than that.
Where to Stay in Benidorm
Benidorm itself is full of places to stay with accommodation ranging from self-catering apartments to 5-star hotels.
The tourist resort of Benidorm remains one of the most popular destinations in the world with millions of holidaymakers enticed by its value, variety and fantastic accessibility to the rest of Europe either by air, land or sea. Benidorm possesses an impressive and progressive infrastructure with significant investment continually being propelled into developing the resort further. It is the spirit of the Costa Blanca, the embodiment of the quintessential Spanish summer holiday and provides a blissful environment for individuals of all ages and interests.
Golfing in Benidorm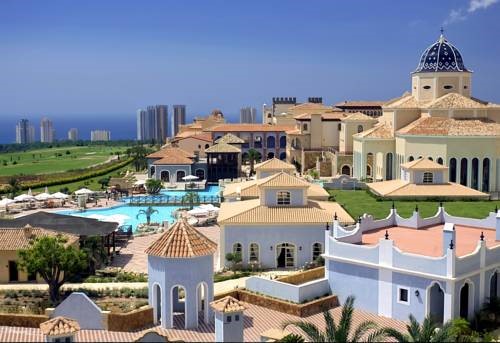 The four-star Melia Villaitana is situated less than 3km from Benidorm. The breath-taking natural surroundings of the Levante coast and Finestrat Mountains make this a memorable place for around of golf.
The hotel was constructed to imitate a Mediterranean village and it offers two diverse golf courses, both designed by Nicklaus – the man heralded by many as the greatest golfer in the history of the game.
The Villaitana Levante course has an American feel, packed with wide fairways, delicately precise greens and a par 72 layout that measures over 7,000 yards from the back tees.
Melia Villaitana Resort, just outside Benidorm
Levante Golf Course
For those seeking a more relaxed approach, challenge yourself on the 4,000-yard Villaitana Poniente Course – an 18-hole par 62 comprised mostly of par 3's and par 4's.
Both courses ensure superb conditions for any level of play, due to the use of Bermuda Princess (Cynodon Dactilon) grass on the tees, fairways and rough.
Things to Do In Benidorm
When you aren't playing golf in Benidorm, there is a wide range of activities for you and your family to enjoy. With its reputation for sandy beaches, superb nightlife and a non-stop party atmosphere, Benidorm ensures that time spent away from the putting greens is thoroughly catered for.
Waterparks
Mundomar is a sizeable nautical and animal theme park located in the east end of the town. If you're out with the family it's ideal, giving them the chance to watch various animal shows and experience the wonder of swimming with sea lions or a dolphin. There is even a children's playground and if you haven't already made enough of a splash, go and make waves in the waterpark Aqualandia which lies directly adjacent to it.
Aqualandia
Biking
Another exhilarating day out is a 24-mile bike ride where you simply allow gravity to take control. The route begins in the mountains and is completely downhill, so little exertion is required as you saunter through villages and valleys with the added benefit of being able to stop when you desire for breath-taking photo opportunities.
Tours
Benidorm is even home to its very own chocolate factory, set in the picturesque town of Villajoyosa which aptly translates in English as 'town of joy'. Valor Chocolate's chocolatiers have been making exquisite treats since 1881 and they offer free tours of the premises where guests can discover all about the palatable craft of chocolate making. Pure ecstasy.
Food
With any golf holiday to Benidorm, aside from the courses you're going to want good food. The vast selection of restaurants means that a taste of all nationalities is served throughout the city. The charming Topo Gogio Garden Restaurant is the largest in Benidorm with its distinctive style of cooking in wood-burning ovens giving their homemade pastas and pizzas their renowned flavour.
However, you may choose instead to seize the moment at Carpe Diem – perfectly placed on one of the narrow streets of the charismatic Old Town. It has a daily menu with three-course meals and a drink for just €9.99; or you may be mesmerised by its long Tapas Bar which offers a staggering 22 dishes.
Benidorm can even bring you the classic mood and music of America from the 1950's with Peggy Sue's American Diner providing burgers, ribs and hot dogs aplenty at terrific prices. Rock and roll have never felt so alive.
Nightlife
Benidorm Skyline Night
Benidorm is renowned for its nightlife and boasts an assortment of entertainment ranging from comedy to cabaret and drag acts. If you are a fan of live entertainment, then it is essential you go see a show at the famous Benidorm Palace.
The clubbing scene continues to captivate locals and tourists alike with many of the main super clubs in Benidorm situated along the same street which is the Avenida Communitat Valencia. With six big nightclubs to choose from you are spoilt for choice with KM Dance Club, Penelopes, El Divino and Hippodrome nightclub all extremely popular.
The array of bars and pubs in Benidorm is extensive, to say the least, meaning you can play a 19th hole, 20th hole and beyond. From chilled and sophisticated to loud and lively, there is a bar for everyone. The Harp Bar, Jokers, and Shamrock Bar are all highly commended, and the Western Saloon bar offers live music from a variety of acts throughout the day and night.
The notion that Benidorm is a city full of drinkers on a cheap night out overlooks the reality that the majority of people are there to absorb the culture of this historic Spanish province. When it comes to tourism, Benidorm adapts to the requirement of its guests better than anywhere else and its incredible selection of entertainment for every generation means that it will continue to be a huge success both on the course and off.