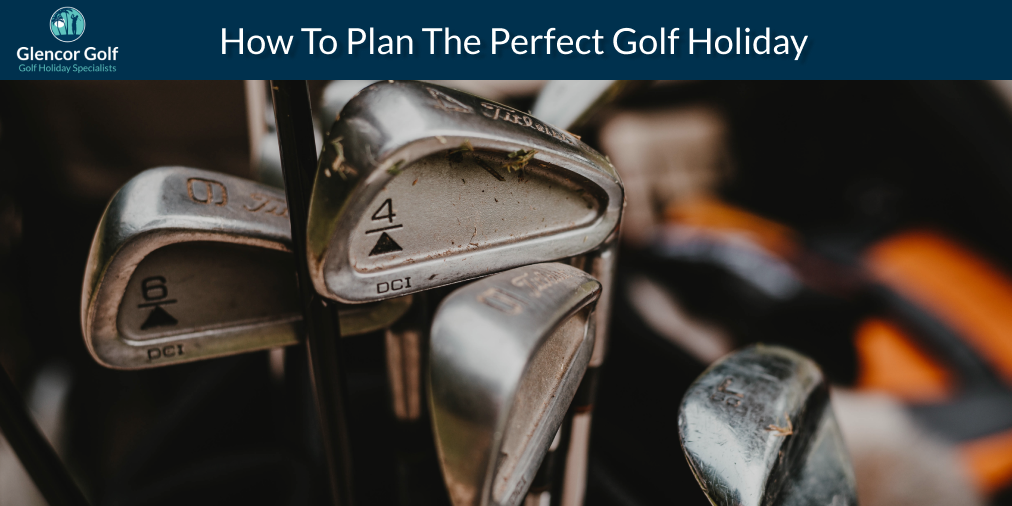 Planning the perfect golf holiday can be overwhelming. With so many destinations and courses available, it's hard to choose where to go and why. In this article we'll cover everything you need to know in order to help you plan the perfect golf holiday.
Who is going?
First things first, who is going on this holiday? Is it a solo trip, a friend's holiday or a stag weekend? If you are going as a group, decide who you are bringing carefully. Consider what their skill level of golf is and whether they will want to play competitively or for fun. Ask yourself if you will be able to play on the same course or will compromises have to be made? Ask yourself what you want to get out of this trip and then tailor who you want to bring with you around this.
Give yourself plenty of time to plan
This is the best time to start researching what the weather will be like in which destination, where has the best courses and what resorts are available in your price range. This is the ideal time to be fully flexible, so you can see a variety of what options are out there, from planned package tours to doing it solo. If you don't want to have the responsibility of planning the whole trip, then maybe a package tour would be the convenient choice.
Location, location, location
Choosing where you decide to go is no easy feat. With so many breathtaking courses around the world, it's best to first narrow down your location by the price and weather you wish to play in. Once you know this you can then decide on whether to invest in a pair of thermals and tackle the Scottish Highlands in Spring or treat yourself to guaranteed sunshine in the Portugal. Just remember to also pick location that can offer more than golf, choose somewhere that also has local sights to explore, such as wineries, historical towns or breathtaking scenic walks.
What type of course?
You may have high hopes of playing on some of the world's best golf courses, but you'll need to ensure that the course you play on will cater to everyone in your group. Don't choose quantity over quality. Pick a course that has a terrain that will suit everyone. You don't want to be stuck wasting time on a course that does nothing for you or your group.
Once you have decided on a few destinations or golf resorts in mind, start to research what their courses offer. Resorts will breakdown their courses hole-by-hole, this will allow you to decide as a group whether they are suitable. It's important to note that some particularly challenging golf courses will impose a restriction on players handicap.
Another key thing to consider is how you will travel to and from your accommodation. This is something to take into consideration as you don't want to waste valuable time spent on the course stuck in traffic.
What activities can you do off course?
You may wish to spend your holiday eating, breathing and living golf, but if you fancy a break from the course and want to soak in the culture or explore some sights, it's important to know what activities are available to you off course.
Set aside a day to travel to the nearest tourist site, such as a quaint traditional fishing village in the Algarve or a colourful colonial town in the Caribbean. If sightseeing isn't your thing, then you could enjoy a day of rest at your resort. Indulge in a day at the spa getting a massage to ease your aching arms or plan a fine dining experience at a local restaurant.
Straight after booking flights and accommodation, secure your tee-time
Whatever you do, don't leave booking your tee-time to the last minute. You may get swept up in booking other elements of the trip, such as car rental, but don't assume that securing a tee-time will be a guarantee. The sooner you book ahead with your resort or golf course, the more variety you will have choosing when and where you want to tee off.
A good idea would be to book your flights, accommodation and tee-time all at the same time, not only will this be one less thing off your list but it will ensure that you don't end up having the times you wish you were on the course already booked up.
Make sure you all share a vision
A golfing holiday will differ depending on the group dynamic. It can mean something different to each person, so it's preferable to work out what you each want to get out of the holiday before booking tickets. Younger or those who are hardcore golf players might want while away the days playing up to 36 holes, whereas others might be interested in a simpler pace of things. If this is the case, chat amongst your group and see if a balance can be struck.
How will you get your clubs there?
Flying with golf clubs can often be tricky. They are bulky, heavy and lugging them through a busy airport can be an ordeal. You often find yourself having to pay out extra fees with your airline to put them in the hold and can waste valuable time waiting around at the carousel once you've arrived.
There are other options! My Baggage is a luggage shipping company that delivers luggage up to 200 countries worldwide. They offer a seamless door to door shipping experience that means your golf clubs will be collected from your home and delivered to your destination. Offering competitive prices and an online tracking service, shipping your items ahead of you couldn't be easier. This is fast becoming a popular option for sports enthusiasts and expats alike.
Article Written By Stuart From My Baggage.