All golfers are different, and they will have a preference for playing a certain type of golf course or even playing golf in a certain part of the world. Our opinions of golf courses are very often shaped by the way we have played them, the better we play the better the golf course!
We are all familiar when standing on the tee as to whether the hole suits your eye or not and you may well have a preference for playing on a links or on a parkland course which will affect how well you play the game. Familiarity is often a major factor in determining how you play on certain types of golf course and  Its not only amateur golfers who experience this there is plenty of evidence to show that in the professional game players regularly play their best golf on certain courses or in certain countries. The outstanding example of this would be Tiger Woods  who has won 8 times at the Torrey Pines Golf Club and its therefore no surprise to see him make his seasonal debut there this week in the Farmers Insurance Open. If we are looking for an enjoyable golfing holiday than it would make sense to choose the type of golf course that we are going to play our best on and here are a few suggestions for some of the worlds best golfers as to where they should holiday.
Tommy Fleetwood's Ideal Golf Holiday Destination: UAE
Last weekend Tommy Fleetwood won in Abhu Dhabi for the second year in succession. He also clinched the European Order of Merit in Dubai at the end of last season so its easy to see that he has an affinity for playing golf in the gulf states .Whether that's due to him liking the climate or the type and style of the golf courses in the region I don't know but there is no doubt that he performs at his best there. If he was restricted to just playing golf  or had to choose his perfect golfing destination then the Gulf states would be his ideal destination.
Sergio Garcia And Colin Montgomerie's Ideal Golf Holiday Destination: Costa Del Sol
Colin Montgomerie has won golf tournaments all over the world but he seems to play some of his best golf in southern Spain . In particular he seems to play very well at the great Valderrama golf course in the Costa Del Sol and was able to clinch the European Tour Order of Merit on several occasions at the Montecastillo Golf Resort in the Costa De La Luz. Not surprisingly Sergio Garcia also has an outstanding record at Valderrama. The current Masters Champion has probably played this course more times than anyone else and he certainly makes the most of his local knowledge. Although Sergio's family have their own golf course I am pretty sure that if Sergio could only play one golf course again it would be Valderrama.
Rory McIlroy's Ideal Golf Break Destination: Ireland
It certainly used to be the case that some professionals were clearly better suited to playing links style golf rather than other types of course. Generally those that hit the ball lower and had an excellent short game were most often in contention when playing in Championships on links courses. Nowadays due to changes in agronomy and golf equipment there isn't quite the advantage to be had by that type of player. Players like Rory McIlroy and Graham McDowell, although brought up on some of Ireland's finest links courses, have proved that they can also master the modern day non- links style designs that rely on length to provide the challenge. Having said that I still think Rory would rather spend time playing at places such as Portrush when he is not playing tournament golf.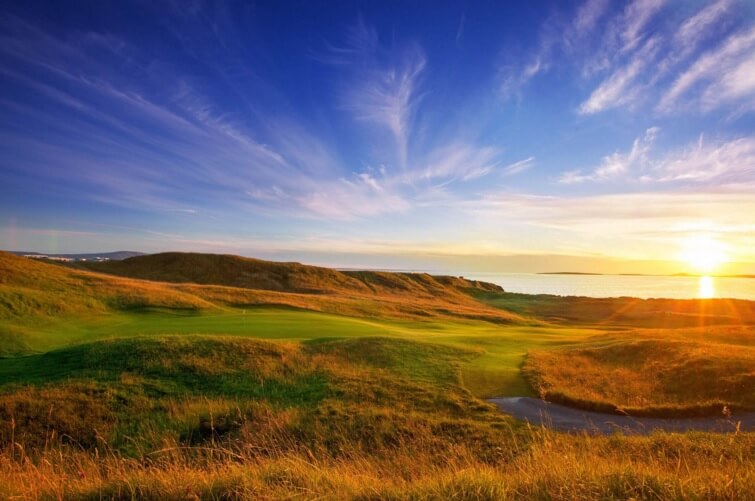 Greg Norman's Ideal Golf Break Destination: York
Its odd that certain Tour events seem to provide more winners from one country than another. The much missed Benson & Hedges tournament has been extremely popular amongst Australian players with 6 different winners coming from there. It may be that the courses that they grew up on at home are heathland in nature and the courses that hosted the Benson & Hedges Tournament are of a similar style. Certainly Fulford Golf Club in York is very similar to the courses around Melbourne and its familiarity could account for such a large number of Australian winners. There was always a large contingent of Australian and New Zealand professionals playing in the event and if they felt homesick than a visit to the golf courses around York would probably remind them very much of being at home. You can follow in their footsteps with a short break in this historic city.
Nick Faldo's Ideal Golf Break Destination: Southport
It is no surprise to see that Sir Nick Faldo has included six links style courses in his top ten favourite golf courses as his record in The Open Championship is exceptional. The area around Southport in the North west of England has some of the finest golf links courses in the UK with Royal Lytham St. Annes and Royal Birkdale being the jewels in the crown.  He never won an Open Championship there so perhaps he would like to go back and try to do better on those two courses.