For those who want a golf holiday abroad without the hassle of flying, France is the perfect destination. France is great for a quick golf mini-break- you even have the choice of bringing your own car, which makes transporting all your clubs a breeze.
Golf holidays in France have a bit of everything. With so many great golf courses and unique hotels, it can be difficult to choose the right trip. We've compiled a list of our favourite golf breaks in France, so check them out and start planning your next golfing holiday!
On an unlimited golfing holiday, you can play as many rounds as you want! The Crecy Golf Resort is located right outside Paris. With this offer, you will enjoy unlimited rounds on the Vignoly Golf Course- the only course in France to be designed by Arnold Palmer himself! This golf course features 14 water hazards and 63 bunkers. After a day of unlimited golfing, you can return to the Crecy Golf Resort to unwind. This renovated 17th century farm is rich in history and comfort, and can accommodate groups of up to six people, which makes it a great golfing resort for larger parties.
For a budget golfing break in France, consider the AA Saint-Omer Hotel Du Golf. Our package includes travel through the Eurotunnel, so this golf holiday is perfect for those who want to bring their own vehicle. Once in France, the AA Saint-Omer is only a 35 minute drive from the tunnel terminal. As part of the package, you'll get to enjoy two rounds of golf at the Val Course, designed by golf champion Johan Frederik Van Heel Dudok. This challenging golf course is integrated with the natural terrain for a unique experience. When you aren't out on the course, you'll be able to enjoy some of the hotel's many amenities, including a sauna and jacuzzi.
Make your golfing holiday in France even more relaxing with a combined golf and spa experience. The 4* Dolce Chantilly Resort is equipped with a sauna, hammam, and indoor and outdoor pools. You'll also have access to the Dolce Chantilly Golf Course, one of the Top 100 European courses. Nestled in woodlands and interspersed with lakes, Dolce Chantilly Golf will give you the chance to relax in a tranquil atmosphere, while still being close to the city. Paris is just an hour away if you fancy a trip into the city! The resort itself is only thirty minutes from Charles de Gaulle airport, so arriving and departing will be stress-free.
If you want to combine your golfing holiday with daytrips and nights out, consider booking one of our Golf and Nightlife holidays in France. Our top choice for this is Saint Malo Golf Resort in Brittany. This resort is located near Dinard, Saint-Malo, and Mont St. Michel, giving you amazing access to beaches, town centres, and areas rich in history. You'll be staying at the Saint Malo Golf Resort, a beautiful 18th century manor house with open beams and stone walls. All rooms have either a balcony or a terrace, and the resort is known for its incredible views, including lakes, a priory, and the golf course itself.
The Le Tang course at the Saint Malo Golf Resort was designed by Hubert Chesneau, and is set near the beautiful Mesnil forest and Mirloup lake. Although this course is accessible to golfers at all levels, it's especially good for those who want a challenge. The resort also has its own driving range, so you can get some practice in before hitting the course!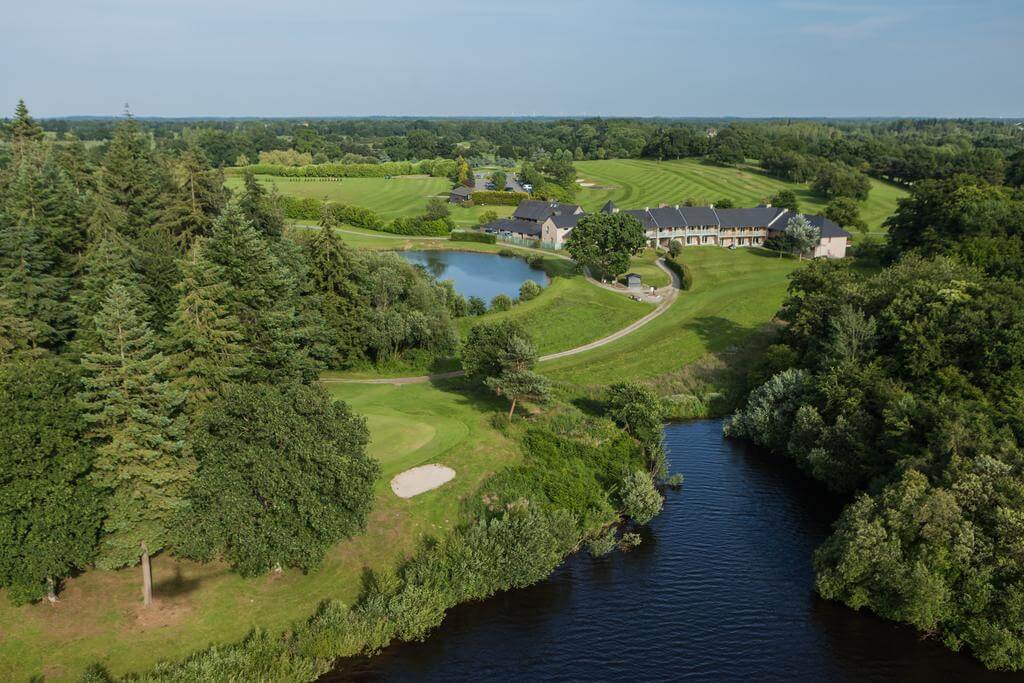 Enjoy a taste of luxury during your French golfing holiday at our most popular 4 star resort, the Hotel Barriere Le Westminster. The elegant hotel was built in 1924, and features a unique art-deco design. All the rooms have amazing views of either the forest or the local lighthouse, and it is packed with great amenities, including a spa and indoor pool. It's also only a 40 minute drive from the Eurotunnel, so getting there by car is easy and convenient.
As part of this package, you will get to play two rounds of golf on the course of your choice.
Golf De Belle Dune gives you the chance to golf among the scenic local dunes. Golf De Wimereux is a links course that is over 100 years old. Hardelot Golf Club and Le Touquet Golf Club both offer stunning landscapes of dunes and woodland. The only difficult part of this holiday will be choosing from so many great options!