Being the home of golf, it's no wonder that Scotland boasts some of the best and most famous golf courses in the world. Divided across 16 regions, the history of Scottish golf is unparalleled, with the dune-filled coast providing the perfect canvas for this fantastic sport. 
But which are the best golf courses in Scotland? Today, we want to go through a few of our time-trusted favourites that are available on our site and find Scottish towns that boast famous golf courses – from historic fairways that have been around for centuries, to modern options that provide fresh new challenges for golfers of all skill levels. 
Call us on 01904 406550 to discuss booking one of the best golf courses in Scotland.
Scotland's Top Golf Courses
Scotland has around 587 golf courses to choose from. The list below covers our top 10 Scottish golf courses. Which is your favourite?
Nestled amidst 365 acres of the Perthshire landscape, Murraryshall dates back over 400 years and offers a luxury 4-star experience. With 27 picturesque holes of parkland golf through tree-lined countryside, Murraryshall takes a proud place in our list. 
What we offer:
Embracing miles and miles of spectacular Aberdeenshire coastline, Trump International has the perfect setting amidst the great dunes of Scotland. Designed by renowned golf course architect, Dr. Martin Hawtree, experience this 18-hole Scottish links course in a classic pattern of two out-and-back looks of nine holes. 
What we offer:
Nestled on a 520 acre estate, Fairmont St Andrews is the venue to pick if you're looking for a touch of luxury and elegance. St Andrews is a place that is synonymous with the world of golf and Fairmont St Andrews is situated just a 10 minute drive away from The Old Course (a course so famous, playing there is more a rite of passage). Fairmont St Andrews itself features two championship courses that are a must-have for your golfing bucket list. 
What we offer:
Watched over by the Turnberry Lighthouse, Trump Turnberry offers some of the most glorious views Scotland has to offer. We'd argue it's one of the most picturesque places to golf, and the perfect course for some truly unforgettable rounds. Four Open Championships have been played at Trump Turnberry including the famous 'Duel in the Sun', highlighting the rich golfing history of the area. 
Learn more about our Trump Turnberry Golf breaks here.
Experience the magic of the Ryder Cup at the 'French chateau' style Gleneagles Hotel. Opened in 1924, Gleneagles is one of the greatest names in the world of golf. Located amongst the rolling hills of Scotland, there's a good reason the hotel has been given the title 'the palace in the glens.' 
What we offer: 
One of Scotland's top golf premier destinations, Dalmahoy is also one of the most convenient courses on our list, being only 7 miles from Edinburgh's city centre. 
Dalmahoy has an impressive 1000 acres to play with and two golf courses onsite in the east and the west. With spectacular views of Edinburgh castle in the distance, Dalmahoy easily takes a spot on our list. 
What We Offer:
Moving onto the Cairngorms National Park, the spectacular Macdonald Spey Valley Championship Golf Course boasts the longest hole in Scotland, with a Par 5 which measures 635 yards! 
Designed by Dave Thomas, the Spey Valley Golf course has hosted the European Challenge Tour's Scottish Hydro Challenge from 2009 to 2018. The unique highland environment combined with the challenging aspects of the sport make this golf course one of our top ten. 
The Macdonald Aviemore Resort also includes a 4-star stay, with restaurants, bars, arcades, shops, a cinema, a leisure centre and other facilities to accompany your golfing holiday. 
What We Offer:
With an 18 hole championship golf course and magnificent views of the border hills, MacDonald Cardrona offers a luxury golfing experience that's unmissable. 
Located 3 miles from the town of Peebles, this resort offers great golf on site and is only 40 minutes away from Edinburgh Airport. The Cardrona Golf course was designed by Dave Thomas and opened in 2001. The par 72 course is set alongside the River Tweed, with views of the border hills and a variety of tees to play. This is sure to be a challenging but rewarding round for players of all experiences. 
What we offer:
Though the Westerwood Hotel and Golf resort is on the lower end of our pricing budget, it's by no means one to be missed. Boasting a course designed by the late Steve Balleseros, The Westerwood Golf course is one of Scotland's hidden gems.
This 18 hole, par 71 golf course has just over 6300 yards from the back tees, both beginner and experienced golf plays can find a challenge here.  
What We Offer:
Home to three world championship golf courses, Carnoustie is an obvious choice for any golf lover and one of the most famous golf courses in Scotland. Coming in at 21st on the Golf Digest 2018 'World's 100 Greatest Golf Courses' list, Carnoustie is one of the most famous golf courses to make it onto our list. Host to the Open Championship and the Dunhill Links. In 2018 the links was overcome by Francesco Molinari; follow in his footsteps and get blown away by the stunning countryside that surrounds the Championship golf course.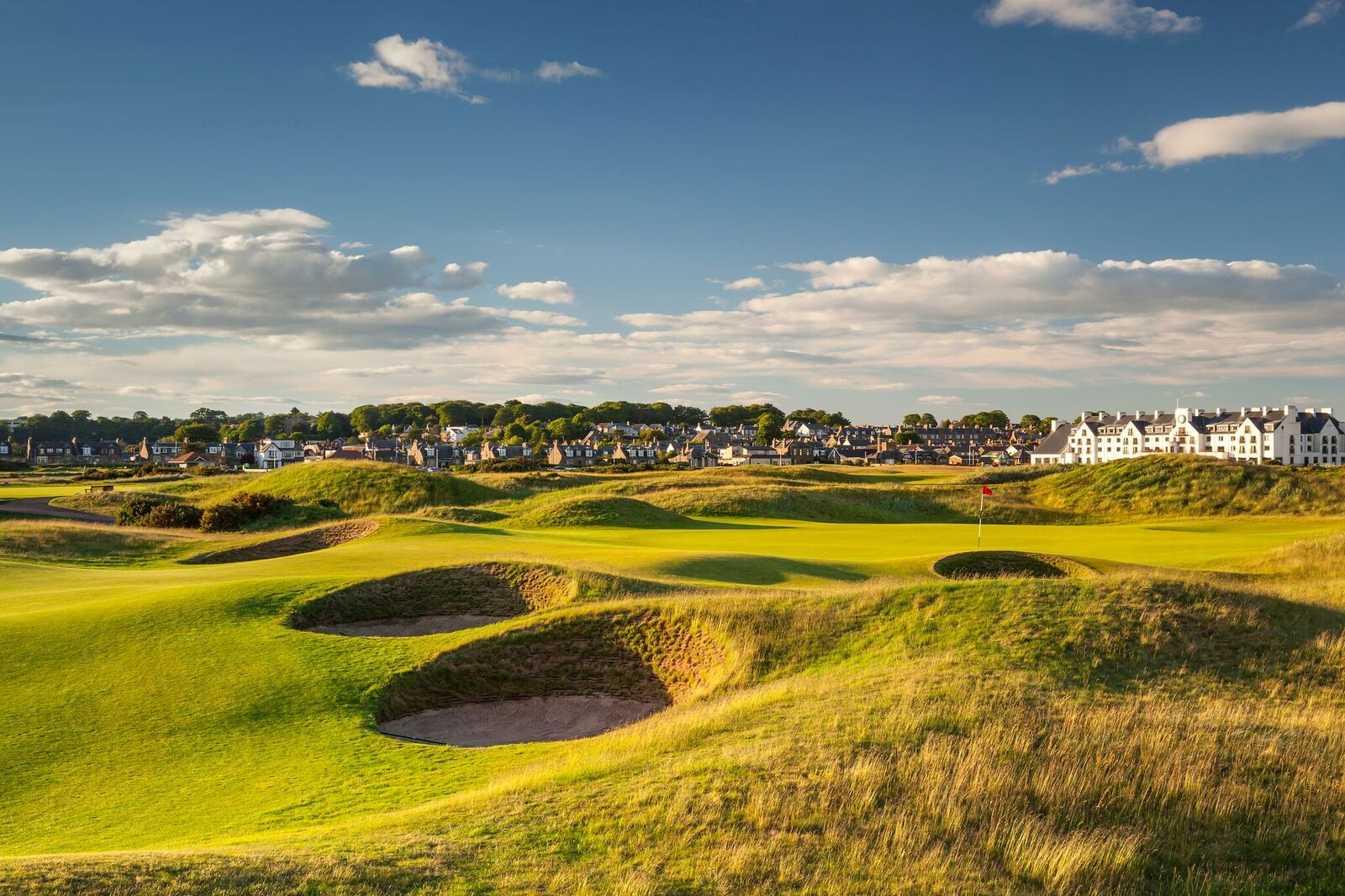 What We Offer
FAQs
How many golf courses are there in Scotland? In Scotland there are over 550 golf courses that you can visit. That's more golf courses per head of population than anywhere else in the entire world. 
When is the best time of year to play golf in Scotland? This can be a difficult one to gauge, as Scottish weather is unpredictable at the best of times. Also, one region of Scotland can be different from the next, so you need to consider where you will be playing golf. 
Generally speaking, the same weather rules you'd apply in England will work with Scotland, and golf can be enjoyed throughout the year. The spring and summer months of May – September are the warmest times of year, and also mean you have extra hours of sunlight in the day. Temperatures can often fluctuate around the 14 to 18 mark, making summer the best time to pick.
What is the oldest golf course in Scotland? The Old Course at St Andrews is generally accepted as being the oldest golf course in Scotland. Archbishop Hamilton's Charter in 1552 is the earliest evidence that proved the people of St Andrews were playing  golf on the Links.
How Much does it cost to play golf in Scotland? We have the best golfing holiday rates around and fees can vary; starting from as little as £99, with twin/double rooms, breakfast and dinner available, and then with the higher golfing holidays reaching upwards of £500, depending on your requirements.